Tuesday, June 8, 2010
Here we are on day one of our La Trobe University Cookery Weekend. It's Bundoora Campus in Melbourne, and we're all poised to dive into another kitchen experience.
Jenny is a cooking groupie of mine. Here we're checking all the ingredients for the Sambar dal.
There's something going on in that saucepan. Amira takes a peek...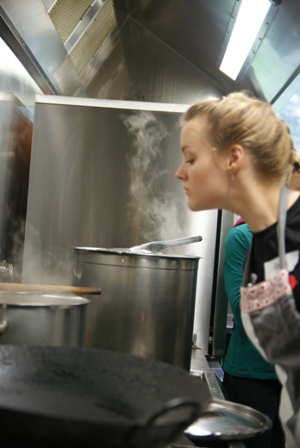 It's alive!!!
Fresh Kurma Cookbooks
Drilling for soup. "Eat your heart out, BP".
Daikon radish. How very zen.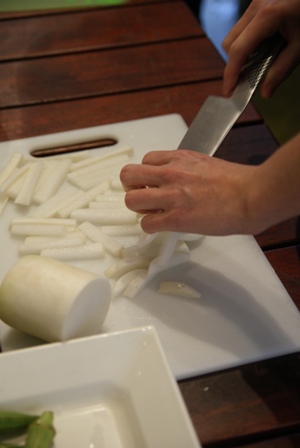 Claire having fun.
Berries a'slidin'.
Fresh coriander cutting lesson.
A tasty South Indian salad. 'Night on Carrot Mountain'.
Saudi Baharat-scented chickpeas with Fresh Greens.
Another class, another banquet.
Many, many thanks to Manoj Kumar for making the La Trobe University adventures a reality.


Posted by Kurma on 8/6/10; 6:06:33 AM from the dept.
This is day-two of our La Trobe University Cookery weekend. We're on Bendigo Campus, it's Sunday morning. The rain is falling, it's cold, but we don't care, because we're snug in the kitchen.
We commence our class with the usual sit-down intro. Lots of notes taken, University lecture-hall style.
I do a lot of 'show-and-tell' today. The 'boys and girls' want to see some knife techniques. I show them exactly how thick to cut the chilies for the Javanese Chili Pickle, Sambal Bajak.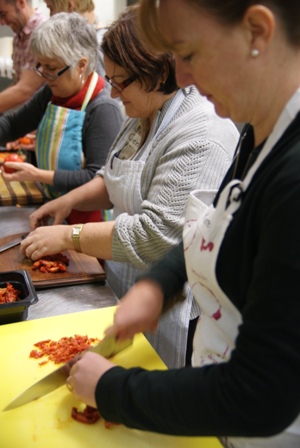 Team Bendigo 2010 chop semi-dried tomatoes for the Macadamia Pesto.
Today's South Indian dal is a nice hot and sour Sambar. Sweet red peppers are one of the ingredients.
Tim is our youngest participant. He's enjoying the cooking camaraderie.
I'm doing the run-around. A big commercial kitchen keeps you fit!
Let's talk about lentils.
The dal is on, and we're getting in the groove.
I show them how to toast the macadamia nuts.
Caution - hot chilies!
Practically a group hug. We huddle as Brad, Qantas Pilot, cooking afficionado, and really nice guy, finishes off the Sambal Bajak.
Decisions, decisions.
Job well done, we sit for lunch. Entree is a nice big bowl of exquisitely complex Sambar Dal, a succulent slab of fresh Panir Pakora battered and crisp with a good slurp of hot, dark, mysterious and very tasty Sambal Bajak, alongside the BBQ Asparagus with the Macadamia and Semi-dried Tomato Pesto and shaved Grana Padano. Yes, you may drool.
The real Meal Deal - eating with Kurma. And by the way, Manoj not only organised everything for these classes, he also took hundreds of photos. I selected and edited what I thought were the best. Thanks again, Manoj.


Posted by Kurma on 8/6/10; 6:06:10 AM from the dept.
June 2010

Sun

Mon

Tue

Wed

Thu

Fri

Sat

3

5

8

19

20

22

30
May
Jul
[ Print This Page ]