Wednesday, October 7, 2009
Devotees of Krishna greatly relish the sacred month of Kartik, which commenced a few days ago on the full moon day, and runs until the full moon of early November.

This is the first verse of a group of eight (astakam) chanted daily in temples throughout the world, and in my humble home here in Sydney, accompanied by an offering of a lamp, or in my case a votive candle, which I leave burning in a safe place in front of a picture of Krishna.

One can derive immense spiritual benefits from performing even this simple act during Kartik, wherein the results of acts of devotion are greatly magnified.

namamisvaram sac-cid-ananda-rupam lasat-kundalam gokule bhrajamanam yasoda-bhiyolukalad-dhavamanam paramrstam atyam tato drutya gopya

"To the Supreme Lord Whose form is composed of eternity, knowledge and bliss, Whose earrings swing and play upon His cheeks, Who is splendrously manifest in Gokula, Who is very fearful of mother Yasoda, and jumping down from the wooden grinding mortar quickly runs away, Who is chased by Yasoda running very quickly after Him and is ultimately caught from behind, I offer my respectful obeisances."


Posted by Kurma on 7/10/09; 9:02:38 AM from the dept.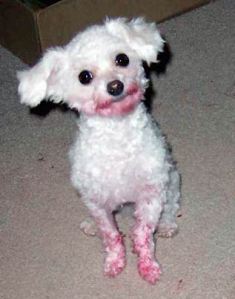 A wealthy old lady decides to go on a photo safari in Africa, taking her faithful aged poodle named Cuddles along for the company.

One day the poodle starts chasing butterflies and before long, Cuddles discovers that he's lost. Wandering about, he notices a leopard heading rapidly in his direction with the intention of having lunch.

The old poodle thinks, 'Oh, oh! I'm in deep doo-doo now!' Noticing some bones on the ground close by, he immediately settles down to chew on the bones with his back to the approaching cat. Just as the leopard is about to leap the old poodle exclaims loudly, 'Boy, that was one delicious leopard! I wonder if there are any more around here?'

Hearing this, the young leopard halts his attack in mid-strike, a look of terror comes over him and he slinks away into the trees. 'Whew!' says the leopard, 'That was close! That old poodle nearly had me!'

Meanwhile, a monkey who had been watching the whole scene from a nearby tree, figures he can put this knowledge to good use and trade it for protection from the leopard. So off he goes, but the old poodle sees him heading after the leopard with great speed, and figures that something must be up. The monkey soon catches up with the leopard, spills the beans and strikes a deal for himself with the leopard.

The young leopard is furious at being made a fool of and says, 'Here, monkey, hop on my back and see what's going to happen to that conniving canine!

Now, the old poodle sees the leopard coming with the monkey on his back and thinks, 'What am I going to do now?', but instead of running, the dog sits down with his back to his attackers, pretending he hasn't seen them yet, and just when they get close enough to hear, the old poodle says,

'Where's that damn monkey? I sent him off an hour ago to bring me another leopard!


Posted by Kurma on 7/10/09; 7:34:27 AM from the dept.
October 2009

Sun

Mon

Tue

Wed

Thu

Fri

Sat

6

7

10

11

13

14

16

24

29

30

31
Sep
Nov
[ Print This Page ]