Saturday, May 23, 2009
Apron-clad, mild-mannered cookery teacher by day, Kurma slips into something more comfortable at night, as hidden cameras recently reveal: leading a group kirtan (chanting) session at North Sydney's Hare Krishna Temple.


Posted by Kurma on 23/5/09; 9:45:08 AM from the dept.
Last weekend was spent teaching on two of the Southern Hemisphere's most extensive university complexes: La Trobe.
Here's a glimpse of our first class at the Lifeskills Cafe, on La Trobe's Bundoora Campus, a couple hours drive out of Melbourne:
Our crew are poised to leap down from the tabletops and indulge in our 4-hour cookery extravaganza.
Cheesemaking, as usual, played an important part of our workshop.
"Unhomogenised milk always makes the best cheese", says Kurma. "Notice how the cheese is firm yet still juicy. A heavy fifteen minute pressing is all it takes for the perfect textured cheese".
Our mission, should we choose to accept it: to cut the cheese into juicy cubes and fry it in fresh ghee, fold it through aromatic fresh tomatoes and green peas to produce the famous matar panir.
Next day we did it all again, at Cafe Flavours on the Bendigo Campus
Together, under the banner of "Classics from the Subcontinent", we again prepared from scratch the following delicious dishes:
Sweet & Sour Toor Dal Soup with Vegetables Moghul-style Cumin-flavoured Rice (Jeera Pulao) Punjabi-style Tomatoes, Peas and Home-made Curd Cheese (Matar Panir) Gujarati Fenugreek-scented Pumpkin Curry Mixed Vegetables in Creamy Gujarati-style Karhi Sauce North Indian Puffed Fried Breads (Poories) Hot, Sweet, Spicy & Sour Eggplant Pickles Fresh herb-laced Garden Salad Saffron Semolina Halava Pudding with Flaked Almonds & Cardamom
The professional kitchen at Bendigo lent itself favourably to some serious 'mis-en-place'.
Not bull-fighting but rather demonstrating the correct type of muslin cloth for the cheesemaking.
We prepared some of the tastiest and most crisp poories ever tasted at a cookery class.
Half atta flour and half high-protein bread-making plain flour with sufficient salt is just one important part of the poori success equation.
Crisp, soft, and ready to tear into bite-sized morsels to scoop up the fragrant, juicy combination of another batch of warm, meaty panir, green peas and tomatoes, all scented with fresh mint, fennel, coriander, ginger, chili, cumin and garam masala.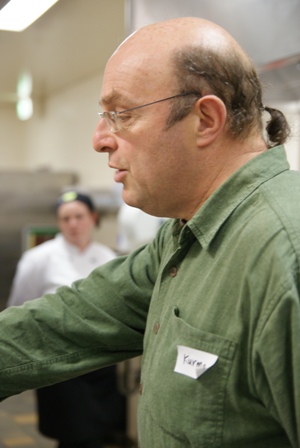 Always at your service.


Posted by Kurma on 23/5/09; 9:30:32 AM from the dept.
May 2009

Sun

Mon

Tue

Wed

Thu

Fri

Sat

1

2

3

4

5

6

16

17

19

23

28

29

30
Apr
Jun
[ Print This Page ]