Monday, May 26, 2008
It's a crisp Sydney morning, and I'm recovering from a week of ecstatic teaching. I headed off a week ago for Satyananda Ashram in the forests of Mangrove mountain. The karma yogis and Sanyasis there were a pleasure to work with - disciplined, hard-working and kind. My photo report of that event is lower down this page.
After a day back in Sydney to re-pack, I flew off to Melbourne, spending the night in my all-time favourite abode, the beautiful Melbourne Hare Krishna Temple in Albert Park. It was an icy 2 degrees as the taxi came to pick me up for my drive to Warrandyte and the home of Alison (below, centre) for an ebullient all-girl cookery event organised by the incorrigible Narelle (below, to Alison's left)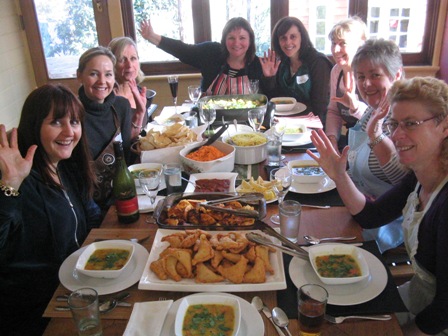 This is what we cooked, and ate.
The South Asian Shared Table
Classic Basmati Rice Pulao Hearty Split Mung Dal with Seasonal Vegetables Served with Grilled Turkish Bread Seared Chili Panir Cheese Steaks on a Bed of Sweet Potato Mash Served with Balsamic-drenched Fresh Rocket Salad Mild Karnataka-style Poriyal of Cauliflower, Potato and Peas Served with Flame-toasted Pappadams, Lemon Wedges & Yogurt Malaysian Curry Puffs Served with Hot and Sweet Tomato Chutney Creamy Cardamom-infused Condensed Yogurt Dessert With Pistachios & Saffron Syrup (Shrikhand)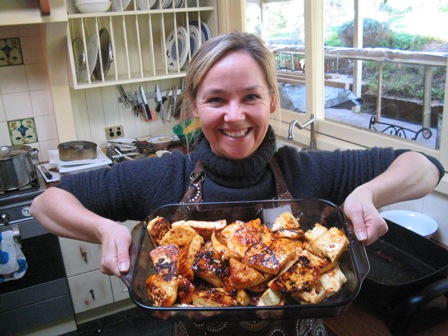 Our spicy chili-seared fresh panir steaks made from rich unpasteurised milk was one of many delights. Served on a bed of buttery sweet-potato mash and balsamic-drenched peppery wild rocket leaves, it was a taste sensation.

But wait - there's more. This was only one of 5 days of kitchen bliss...


Posted by Kurma on 26/5/08; 9:09:36 AM from the dept.
Teaching in Australia's National Capital Canberra has been a regular adventure for many years. This visit marked the 30th birthday of my host Korinne (below, with baby Archer). She had invited guests from as far away as Papua-New Guinea, so it was an eagerly awaited event.
A generous sprinkling of men in the class changed the dynamics from my usual all-female extravaganzas. Here Jason pounds the Thai red curry paste.
Fennel-scented doughnuts in berry-laced Greek yogurt was the grand finale, rendering us all prostrate for a good few hours.
I managed to get to the bus depot in time for my express bus trip back to Sydney.


Posted by Kurma on 26/5/08; 9:08:55 AM from the dept.
The kitchens of the peaceful Satyananda Ashram were a'flurry with all sounds culinary for my three-day cooking workshops. Here's our crew for day one.
We were cooking for an evening meal of 60 hungry karma-yogis, hence our generous salad leaf quantities.
Our Syrian pomegranate and walnut dip required roasted red peppers, here expertly blackened over a naked flame by Govinda and Leela.
Peeling oven-roasted peanuts for the North-Indian Cabbage Salad is fun when there's a few of you doing it at once.
Julie (second from left) brought a group of friends from Berry, a small town in New South Wales, to help with cut-up duties.
Jacqui baked some phenomenal loaves of bread.
The kitchen was a pleasure to cook in. This giant Brat Pan, here attended to by Veda, was the ideal vessel to prepare cashew and cardamom-laced carrot halava, which cooked to perfection in record time.
A splendid time was had by all!


Posted by Kurma on 26/5/08; 9:07:26 AM from the dept.
May 2008

Sun

Mon

Tue

Wed

Thu

Fri

Sat

5

7

8

9

10

20

21

23

24

25

26

28
Apr
Jun
[ Print This Page ]