Saturday, January 27, 2007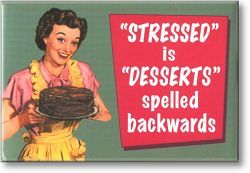 I noticed the above cute little saying on an apron of a student of mine at a cookery class somewhere in Australia on my last Big Tour. I think it was in Alice Springs.
Surely it rings true for anyone who holds desserts dear to their heart. Talking of desserts...
Sandy from Leichhardt, NSW, Australia writes: Hey Kurma, do you have a nice cheesecake recipe?
My reply: Yes I do!
Stress-relief is just a click away...


Posted by Kurma on 27/1/07; 12:34:34 AM from the Travel dept.
January 2007

Sun

Mon

Tue

Wed

Thu

Fri

Sat

7

8

9

22

27
Dec
Feb
[ Print This Page ]