Wednesday, January 10, 2007
I've arrived in Athens for a couple of weeks of 'R and Wr' - Reading and Writing - and a bit of chilling out. I've always wanted to see Greece, and even though it's winter, the weather is still mild enough to do a bit of looking around.
You haven't heard from me for a few days because I left my ethernet connection back in Perth. My hosts haven't got one, so I couldn't get online to edit my blog pages.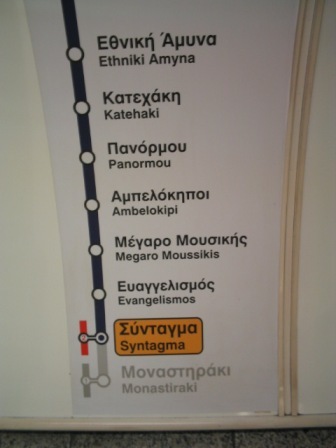 I'm staying in Ambelokipi, in the city's west. This morning I headed downtown from the local underground station in Panormou to a large computer store in Syntagma, and picked up the missing cable. And here I am, back on the blog.
I'll try to tap into some local food culture and history while I'm here. I took this photo of a vendor of simitia, the much-loved ring-shaped breakfast breads.


Posted by Kurma on 10/1/07; 4:41:12 AM from the Travel dept.
I'm here! Do you recognise the place? I didn't take this picture, and it's not cold enough to snow here yet.


Posted by Kurma on 10/1/07; 4:28:31 AM from the Travel dept.
January 2007

Sun

Mon

Tue

Wed

Thu

Fri

Sat

7

8

9

10

22
Dec
Feb
[ Print This Page ]