Sunday, July 30, 2006
I taught a seven-hour hands-on cookery workshop yesterday on 'Savouries and Chutneys'. It was intense but successful, and the fruits of our labour were delicious.
I am actually teaching all the cooks that prepare offerings in the inner-sanctum of the temple kitchen here at Radha-Radhanatha Mandir, otherwise known as Durban's Temple of Understanding, or just plain 'The Hare Krishna Temple' if you like. They were very eager to fine tune their culinary repertoire.
Here's what we cooked: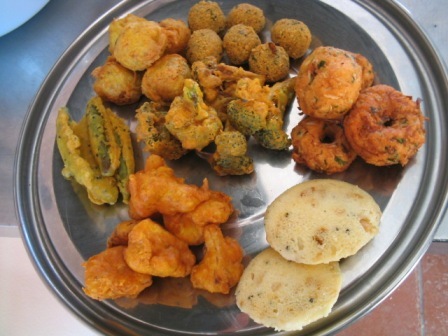 Clockwise from top, Mauritian-style Dal Rissoles (Gateaux-Piments) Savoury Lentil Doughnuts (Vadai) Soft Cashew-Studded South-Indian Steamed Semolina Breads (Rawa Idli) Cauliflower Pakoras Whole Fresh Green Chili Pakoras Mashed Potato Puffs (Alu Vadas) Broccoli Pakoras (centre)
And here's the rest, making 17 items in all:
Clockwise from top, Hearty Koftas in Tomato Sauce Cooling Lime Yogurt Hot and Sweet Tomato Chutney Fresh Coconut Chutney Home-style Tomato Chutney Orange-scented Hot & Spicy Apple Chutney Sweet and Sour Date & Tamarind Chutney Fresh Mint Chutney Savoury Fresh Cheese Balls in Creamy Tomato Sauce (Malai Kofta) (centre)
Posted by Kurma on 30/7/06; 3:30:18 PM from the Travel dept.
"If we cut up beasts simply because they cannot prevent us, and because we are backing our own side in the struggle for existence, it is only logical to cut up imbeciles, criminals, enemies, or capitalists for the same reasons."

-C.S. Lewis (novelist and essayist)


Posted by Kurma on 30/7/06; 3:12:33 AM from the Travel dept.
July 2006

Sun

Mon

Tue

Wed

Thu

Fri

Sat

26

30
Jun
Aug
[ Print This Page ]