Saturday, July 8, 2006
I received a very enthusiastic letter yesterday from Kathie & Scott who live in South Jordan, Utah. Thought I'd share it with you.
"Dear Kurma, My husband recently purchased your 'Great Vegetarian Dishes' Cookbook and DVD's from a Krishna Temple we happened upon in Spanish Fork, Utah. We had a lovely meal at the Himalayan Festival there and were extremely impressed with the delicious vegetarian fare.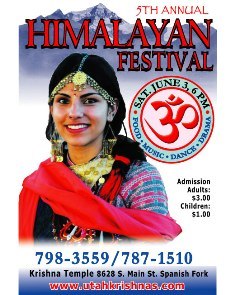 We returned on my birthday just to enjoy the peaceful atmosphere and pet some of the well cared for animals. A very nice gentlemen by the name of Caru talked with us at length and encouraged us to take the plunge to vegetarianism - something we have both thought about, desired, and tried off and on, but never quite gotten the hang of for years.

We are both in our 50's and I had reached the opinion that I was too old to be learning a whole new way of eating. However, we have just made it through 2 whole weeks eating totally meatless (at home & restaurant meals!) and our enthusiasm is growing every day for this new way of approaching food.

Your book and DVD's are wonderful and your web-diary has such a friendly, down to earth feel. It looks like your "hands-on" classes are very instructive as well as lots of fun. My hope is that you'll put the U.S. West on your list of tours someday. Until then, just know that you have helped two more people cross the line in the quest to eat cruelty free. Thanks so much! "


Posted by Kurma on 8/7/06; 2:03:51 PM from the Travel dept.
This morning before breakfast, as the sun was peeping over the Belgian skyline, I wandered into the lush, dew-laden fields and found myself face to face with one of the small herd of beautiful Brown Swiss cows here at Radhadesh.
The Brown Swiss breed is one of the oldest dairy breeds in the world, and originated in the valleys and mountain slopes of the northeastern part of Switzerland before historic records began. Today, many Brown Swiss can be found in Europe.
The milk of the Brown Swiss cow is coveted by cheese makers. The milk I have been using to make homemade cheese in my classes has been truly exceptional, so I can vouch for that.
Brown Swiss cattle also enjoy a reputation for their longevity, their ability to produce large volumes of milk, and to reproduce longer than cattle of other breeds.
Wandering further, I noticed a small group of six or eight very handsome trees, heavily laden with a fruit I later discovered were almonds.
The almond tree was introduced into Belgium by the Crusaders. Today throughout the region, almond, peach, apricot and fig trees flourish.
I was especially drawn to the fabulously fragrant French Lavender which grows profusely throughout the grounds here in nicely cultivated little garden settings - a credit to the dedicated gardeners.

Posted by Kurma on 8/7/06; 1:04:45 AM from the Travel dept.
July 2006

Sun

Mon

Tue

Wed

Thu

Fri

Sat

8

26
Jun
Aug
[ Print This Page ]