Monday, May 1, 2006
It's the first of the month, and the first day of my twice-yearly Australia-wide teaching tour. This one will take me to Melbourne, its suburbs of Reservoir and Moorabbin, the famous surfing mecca Bells Beach, then its satellite towns Ballarat, Seymour and Gisborne.
I'll fly to the National Capital, Canberra. Next is Sydney, and up to Orange and Taree. I'll venture further north to tropical Townsville, back to Brisbane, down to Northern New South Wales, and I'll back in Perth by June.

Gotta go, my taxi's arriving soon for my 6.00 am flight.


Posted by Kurma on 1/5/06; 2:40:09 AM from the Travel dept.
I successfully emptied my fridge and cupboard of all groceries on the eve of my flight to the East Coast and beyond for my extended months away from home base. I whipped up quite a nice lunch yesterday considering I was down to my last bits and pieces.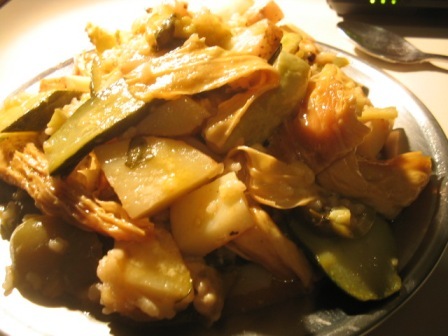 I threw all of these ingredients in my rice-cooker: sliced zucchini, squash, fresh chili, green peppers, potato, dried tofu stick, asafetida, salt, black pepper, basmati rice, water and butter. Simple but sublime.


Posted by Kurma on 1/5/06; 2:38:34 AM from the Travel dept.
May 2006

Sun

Mon

Tue

Wed

Thu

Fri

Sat

1
Apr
Jun
[ Print This Page ]