Subscribe (RSS 2.0)
December 2013

Sun

Mon

Tue

Wed

Thu

Fri

Sat

1

2

3

4

5

6

7

8

9

10

11

12

13

14

15

16

17

18

19

20

21

22

23

24

25

26

27

28

29

30

31
Feb Jan
Hello, I'm Kurma Dasa. This is my blog. I cook, travel, and write. Join me in my culinary adventures.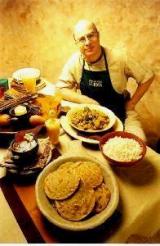 I live in Sydney and enjoy running vegetarian cookery classes.
This is lunch, cooked by my students and I.
My guru, Srila Prabhupada, as well as being a world-renowned scholar and author, and founder-acharya of the Hare Krishna Movement, was also an expert cook.
His close disciples learned a great deal from him about the intimate details of
Bhakti-yoga cookery
, and it is from those early students that I received my culinary inspiration.
I do a lot of overseas teaching. I was invited to Belgium to teach a group of students from over 20 countries. Here we are, engrossed in the pleasures of all things culinary.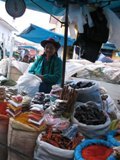 I've visited many spice markets, but those in Bolivia were fascinating. This local La Paz merchant is offering a fine selection of condimentas.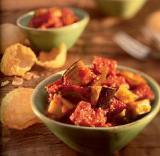 This is one of my favourite pictures, from my popular cookbook 'Quick Vegetarian Dishes'. It's fried eggplant and freshly-made chunks of panir cheese in a spicy tomato sauce. For more information about my cookbooks...
This is the Bolivian altiplano, the vast mountainous region, on a breathless and freezing cold morning at 5200 metres (over 17,000 feet) above sea level. We were on our way to Cochabamba. These boys were selling granite spice mortars, but unfortunately they were too heavy to bring home.
In Bhaktivedanta Manor, the famous London temple/estate donated by George Harrison, there is a cook who prepares nothing but sweets all day.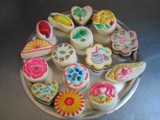 She offers them with love to Krishna. These sweets are sought after throughout the world.
These magnificent wafer-thin puffed breads called poories were cooked at a class on a trip to Alice Springs, in the centre of Australia. Note the beaming chef.
My visit to Turkey was one of the highlights of my overseas teaching. This is a typical grocer shop, in the area known as Bakirkoy. The food culture of Istanbul is phenomenal.
Cooking lunch for 300 during a visit to London.
"I'm a Vegie-Chef, and I'm OK, I cook all night and I cook all day..."
The ladies and gentlemen above attended my classes in one of Istanbul's most prestigious cookery schools, the Mutfak Sanatlarý Akademisi.
This delectable, classical Indian sweet is called burfi. It's made from milk, roasted almonds, sugar, butter, and vanilla, and is prepared by slowly reducing the milk until it resembles a firm fudge. It is then smoothed into trays, then cut into pieces when cool.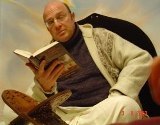 Here I am, absorbed in reading from my book 'The Great Transcendental Adventure' on a freezing cold evening in Santiago de Chile.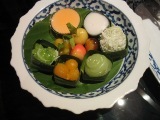 I spent a day studying traditional Thai sweet-making in Bangkok.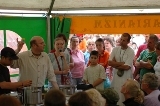 Another highlight was my 2-week tour of Poland's Baltic Sea coast on the Festival of India tour.
I conducted my highest ever cookery class in La Paz, Bolivia. The city of 1 million is situated in the valley of the Choqueyapu River below a plateau with an altitude of 3,600 meters (11,811 feet). The cooking was truly (and literally) breathtaking.
Here's the fruits of a wonderful full-day cooking intensive in Durban where we just cooked vegetable dishes.
This is my son Caitanya, born 1985. He presently lives in Perth.
These are the famous breakfast pancakes called pudlas, served with two types of chutney.
Saying goodbye to all my friends in Poland was very hard.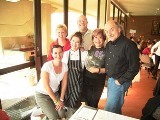 Australian Television Icons Ian Parmenter and Elizabeth Chong joined me at Methodist Ladies College in Kew, Melbourne for a special cookery event with the girls.
A recent translation of my classic first cookbook 'Great Vegetarian Dishes'. This is the Hungarian edition.
Part of my Bhakti-yoga lifestyle involves kirtan (chanting and singing Sanskrit mantras) accompanied by musical instruments like small brass cymbals (karatals) and the two-headed clay drum called mrdanga. In this photo I am leading a group of kirtan performers in Perm, near Siberia.
A feast fit for a King! One of our wonderful cooking class lunches in the Chateau de Petite Somme, Belgium.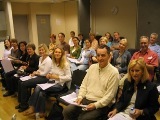 Mona Vale in Sydney's outer suburbs is home to a cookery school called Foodstuff. I hold classes there yearly.
A cookery class was conducted, then lunch was served at one of Durban's most prestigious bookshops, Exclusive Books.
This is my son Nitai (short for Nityananda Rama) born in the sacred town of Vrindavan, India in 1996. This photo was taken in the Peruvian Andes a couple of years ago.
A kitchenware studio called DeStudi in Australia's tropical Townsville regularly hosts my classes.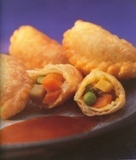 Who can resist warm, flakey curry puffs?
The bovines of Belgium's spiritual community of
Radhadesh
are truly magnificent!
"May cows stay in front of me; may cows stay behind me; may cows stay on both sides of me. May I always reside in the midst of cows." (Hari Bhakti-vilas 16.252)
Here I cook lunch for friends on a teaching trip to Hong Kong.
Here's my daughter Joelene and her oldest son Sebastian. Can you notice the family resemblance?
My first cookbook, 'Great Vegetarian Dishes', was translated and published in Italy in 1996, and entitled 'Alta Cucina Vegetariana Da Tutto Il Mondo'.
Curtin University is one of Perth's leading campuses. I cook there regularly.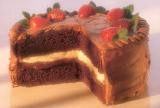 A wonderful egg-free Black Forest Carob Cake!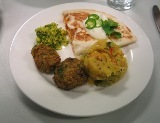 Albany Summer School hosts me regularly. Here's part of a feast cooked there not long ago.
I take my cookery classes to private homes around the world. Here I'm whipping up a batch of the famous cashew-studded breads called idlis at a home in Perth's suburbs.
Fine dining vegetarian-style after a class held at Melbourne's famous William Angliss College.
Here's a feast comprising completely of non-grain items for the sacred day of Ekadasi at a class in Slovenia's capital Ljubljana.
My cookbooks are full of a huge selection of gourmet international vegetarian delights, like these crispy Mexican tostadas, piled with frijoles refritos, guacamole, salad, cheese, and spicy cumin-scented tomato sauce.
There's many more like this in my book 'Vegetarian World Food'.
The fruits of our labour at a class at University of Western Australia.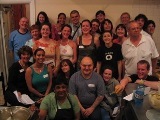 The residents of Dublin are some of the warmest and friendliest people I have ever met. Here's a group photo taken at a class held at Govinda's Restaurant, downtown Dublin.
Here's an aromatic batch of star-anise, cassia and rose-scented gulab jamuns, succulent and juicy confections that are held in high acclaim in the sweet world. These were prepared in a cookery class in Perth.
Kowloon housewives make for a pretty dynamic crew at a cookery workshop!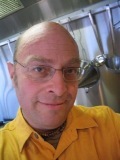 Posing in the kitchen of Mt. Surmon Estate in South Australia's Clare Valley during an 8-course degustation dinner.
This girl is enjoying some freshly-prepared matar panir that I cooked at a cookery class in Ustronie Morskie on Poland's Baltic Sea Coast.
Time for dessert at Methodist Ladies College.
A simple but sublime salad of fresh vegetables and feta cheese encountered at Sunion on the Attiki Peninsula, Greece.
My students pose for a group photo at the summation of our Hong Kong Masterclass.
A truly spectacular eggless fruitcake. The recipe is in my first cookbook 'Great Vegetarian Dishes'.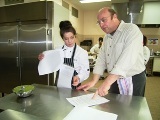 Co-ordinator extrordinaire Felicity Fraser and I plan our culinary attack at Methodist Ladies College.
The International Hotel School, Johannesburg hosted a wonderful cookery workshop. Fifty students cooked and feasted with abandon!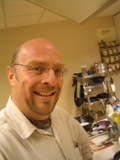 Poised to commence a class in Sydney.
Albany is a town on Western Australia's South West coast. The Summer School there has hosted me on many occasions. This was a lunch to remember!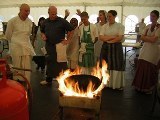 Some lethal cooking stoves at my London Masterclass!
The Home Economics staff at Perth's Santa Maria Ladies College attended a class of mine.
Parallel universes collide in Tamworth, Australia's famous country music capital.
Getting arrested in the Bourke Street Mall, circa 1978. A long story...
I regularly teach in Australia's national capital Canberra. This is Cooking Co-ordinates, a kitchenware emporium and cookery school in the Belconnen Fruit and vegetable markets.
A delectable birthday feast cooked in honour of our hostess in Bell's Beach, of Victoria's surfing fame.
A cookery class at Outdoors on Parade in Adelaide. And a few dishes to wash...
Cherry cheesecake - hard to resist!
A colossal example of flawless team effort at one of my biggest hands-on classes ever, held at Johannesburg's International Hotel School.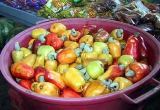 These are cashew fruits, for sale at a market in Pindamonhangaba, Brazil. My visit to Brazil is well documented here.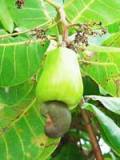 Cashew fruits in their natural habitat look like this. The cashew is inside the odd leathery pouch that hangs under the fruit. Care has to be taken to extract the nut, for it is surrounded with a highly irritating fluid.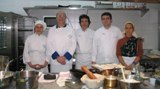 During my visit to South America, I taught at Buenos Aires' prestigious Instituto Argentino de Gastronomia. For the full story...
Cheese-making is a highlight at many of my classes. The milk's just coming to the boil...
And here's the result of our cheesemaking labour - a wonderful batch of homemade panir cheese. It's ready to pan-fry, deep-fry, fold into salads or make into dessert. Ultra versatile!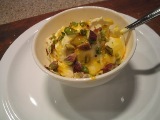 This is the famous saffron-scented confectionery called Shrikhand, prepared at a class in Alice Springs
A freezing cold day in Moscow's Red Square.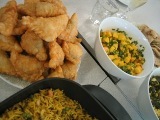 Saffron pushpana rice, hot parathas, and fresh mango chutney served at our Santa Maria College cookery class.
I took a day off from my vigorous teaching schedule in a hot kitchen in Santiago de Chile and trekked to the top of a mountain to experience sub-zero snow at the icy summit of the famous El Colorado.
Govinda's Restaurant is one of Dublin's best-loved vegetarian eating establishments.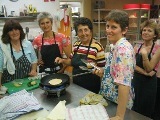 Our fired-up all-girl crew prepare chapatis at a class in Murwillumbah, in Australia's Northern New South Wales.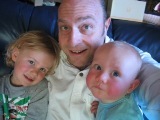 These are my grandsons, Sebastian and Toby. They live in Sydney with my daughter Joelene.
Cooking naan bread in a tandoor, Northern India. Welcome to the world of flatbreads...
Rainee shows us her wares at a cookery class/dinner party held in Queensland.
Wangaratta's longest vegetarian dinner table. A day to remember!
On pilgrimage at Peru's famous Inca site, Machu Picchu.
At the Parthenon, Athens, ready to learn some Ancient Greek recipes..
This is pandan, Southeast Asia's answer to vanilla.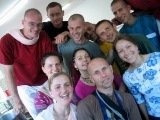 New friends made while teaching in Poland.
Finally - a meal is not complete without a sweet. Go on - you know you want to...How about one of these irresistible delights - the famous gulab jamuns?
At your service.
You can contact me at kurma.acbsp@pamho.net
This site is hosted by
ISKCON Melbourne
.
Hare Krishna Hare Krishna Krishna Krishna Hare Hare Hare Rama Hare Rama Rama Rama Hare Hare
Hare Krishna Hare Krishna Krishna Krishna Hare Hare Hare Rama Hare Rama Rama Rama Hare Hare Hare Krishna Hare Krishna Krishna Krishna Hare Hare Hare Rama Hare Rama Rama Rama Hare Hare Hare Krishna Hare Krishna Krishna Krishna Hare Hare Hare Rama Hare Rama Rama Rama Hare Hare Hare Krishna Hare Krishna Krishna Krishna Hare Hare Hare Rama Hare Rama Rama Rama Hare Hare Hare Krishna Hare Krishna Krishna Krishna Hare Hare Hare Rama Hare Rama Rama Rama Hare Hare